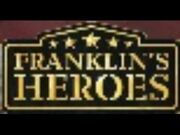 Franklin's Heroes is a weapon pack. Like all weapon packs, it only becomes available for a short amount of time. The pack contains three weapons:
The pack also comes with an Essentials bundle available for $8.99 USD which includes all weapons in the pack.
Notes
Once anything in the pack had been purchased, the Essentials bundle will no longer be available.
Ad blocker interference detected!
Wikia is a free-to-use site that makes money from advertising. We have a modified experience for viewers using ad blockers

Wikia is not accessible if you've made further modifications. Remove the custom ad blocker rule(s) and the page will load as expected.